Glenn "Pappy" Koch (1913-2003)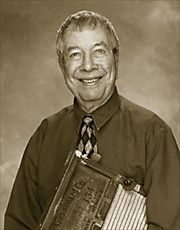 Glenn was Black Swan's original rhythm man, performing from inception in 1989 through 2000. Glenn was born in 1913 in Covina California and died in Portland Oregon in 2003. He played with many Dixieland and ragtime groups in California, Illinois, Oregon and Washington during his long musical career.
Glenn switched from violin to drums while in high school and continued his percussion studies at the University of Southern California. He soon moved to Chicago and subsequently traveled to Europe with the Sons of Bix, on U.S.O. tours in the Pacific with Franz Jackson and to Japan with Dr. Jon's Medicine Show and Jazz Band. Other "ports of call" include stints with Lil Armstrong, Chuck Foster, Jimmy Featherstone, the Chicago Footwarmers and the Salty Dogs.
After moving to Portland, Oregon in the late 1970's, Glenn performed with the BSCJB, the Pussyfoot Stompers, Eastside Jazz Band, Stumptown Jazz and John Bennett's Swipesy Cakewalk Ragtime Band.
Glenn was a rock-solid traditional jazz and dance drummer and was also known for his excellent ragtime washboard work.
Glenn's Black Swan recordings include:
Glenn's discography also includes:
Good for What Ails You with Dr. Jon's Medicine show & Jazz Band
Just What the Doctor Ordered with Dr. Jon's Medicine show & Jazz Band
Other Links