Pandemonium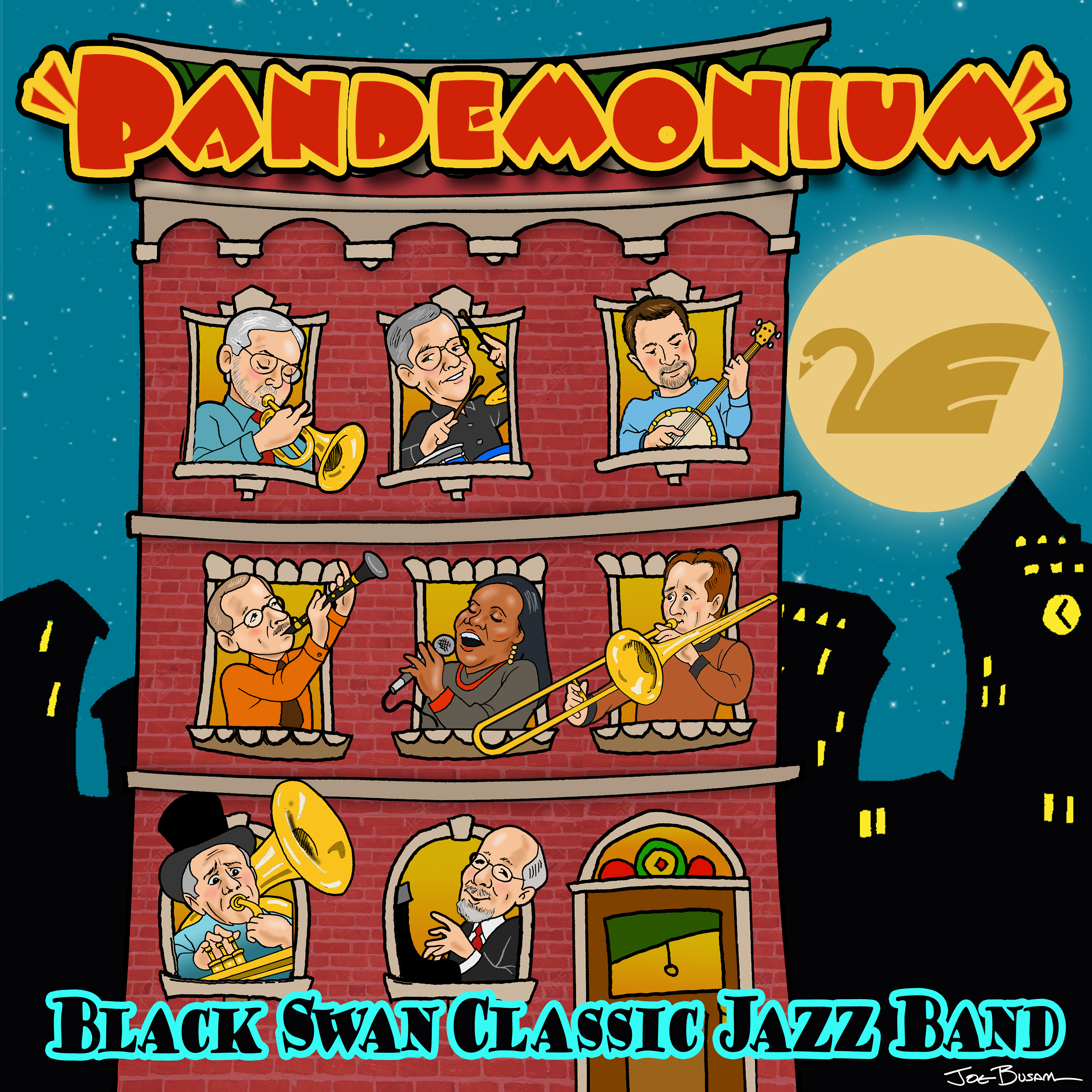 Pandemonium is a brand new recording from 2020 that includes early blues, ragtime and jazz favorites, three original songs composed by members of the band and featured vocals by Marilyn Keller. CDs may be pre-ordered at this time for shipment in February 2021. Click on our new HearNow page for sample clips from each track.
Your 14-song, 68-minute Pandemonium program includes...

King Chanticleer
Git On Out the Door (features Marilyn Keller)
When the Midnight Choo Choo Leaves for Alabam'
Bouncing Around
Jelly Bean Blues
My Honey's Lovin' Arms
San
1919 Rag (March)
You've Got to See Mama every Night (Or You Can't See Mama at All)
Down in Honky Tonky Town
Black Swan Glide
Cut to the Bone
Aggravatin' Papa
Way Down Yonder in New Orleans

Additional information on each tracks provided below in liner notes.

Pandemonium musicians are...

Marilyn Keller, Vocals

Rick Holzgrafe, Cornet

Don Stone, Trombone

Steve Matthes, Clarinet

Craig McKinley, Banjo

John Bennett, Piano

Ron Leach, Drums

Kit Johnson, Tuba

The recording and mixing was engineered by Kit Johnson. Mastering was by Bryan Shaw. Joe Busam provided the cover design and illustration. Joy Kodani provided graphic art work. Liner notes and photos by Kit Johnson. Recorded at Fast Buck Studios, Tualatin, Oregon.
Buy this Album Online
| | | |
| --- | --- | --- |
| Pandemonium (CD) | $16.00 | Quantity: |
Pandemonium Liner Notes
This recording is a deeply personal project — one to sink our teeth into given the recent curtailing of virtually all performance art worldwide. It's an offering to our early jazz lovers whom we've missed so much during the past months; a catalyst to avoid allowing our musical muscles to atrophy and lay dormant; an attempt to — in some small way — replace lost collaborative moments; an opportunity to heal through our common affinity for art and the emotions they inspire.
Improvisational music is best served hot and live. We cannot replace an absorbed, excited audience reacting to the performance of a well-rehearsed, engaged ensemble in an inviting setting and, in turn, feeding that energy and adrenalin back to the performers.
Pandemonium. It rocks!
The year 2020 brought us a different reality. Live music performances came to a standstill. Placing musicians in close proximity to one another and to our fans was no longer feasible. Did this mean that music was dead? Of course not! We have witnessed artists finding new ways to make the best of the situation. Just because you can't have cake doesn't mean you shouldn't enjoy a nice piece of bread. Various forms of virtual concerts have become commonplace. They may not achieve the exhilaration possible in a great live performance, but at least they lead toward connecting us with each other once again.
Black Swan Classic Jazz Band has used this period to create a new recording, combining influential jazz songs that speak to us; original compositions from members of the band; showcases that feature Marilyn Keller on vocal; all rounded out by a variety of inspired instrumental performances. Because recording together was not an option during the ongoing pandemic, each of us has found a way to make our individual parts fit this cohesive whole.
We hope you enjoy our work and look forward to creating more Pandemonium with you soon.
Music
King Chanticleer. 1910. Nathaniel Ayer. Arr./Trans., James Meyer.
The Texas Tommy Dance swept the nation off its feet between 1910 and 1913. It also inspired Broadway composer Nate Ayers to write this lively instrumental opener. Born in San Francisco and later migrating east, this lively two-step, "King Chanticleer," gained renewed popularity in the Bay Area through interpretations by early jazz traditionalists and, in particular, by vocalist Doris Day's version in the film "Under the Silvery Moon."
Git on Out the Door. 2011. Kit Johnson. Vocal, Marilyn Keller.
The bawdy, tongue-in-cheek, double-entendre wails of the 1920s and 30s inspired Kit to compose this original number for Marilyn a few years ago. Today, Marilyn has chosen to sing the more socially acceptable refrains.
When the Midnight Choo Choo Leaves for Alabam'. 1912. Irving Berlin. Arr., Kit Johnson. Vocal, Marilyn Keller.
A prolific and beloved American song composer, Berlin emigrated with his family from Tsarist Russia to his adopted homeland when he was just a youngster. He wrote this song in 1912, shortly following his first big hit, "Alexander's Ragtime Band."
Bouncing Around. 1924. Peter Bocage & A.J. Piron. Arr., Kit Johnson.
1920s recordings by Armand Piron's New Orleans Orchestra remain admired by jazz aficionados to this day. This Crescent City crew toured New York as early as 1923 with performances at the Cotton Club and Roseland. Trumpeter Bocage and violinist Piron collaborated on several noteworthy song compositions, such as "Mama's Gone Goodbye", "New Orleans Wiggle" and "West Indies Blues."
Jelly Bean Blues. 1924. Gertrude "Ma" Rainey. Arr., Kit Johnson. Vocal, Marilyn Keller.
Ma Rainey paved the way for many blues singers who followed. A seasoned performer, Rainey performed in vaudeville as early as 1900. She had a long and storied road career before cutting her first recordings with Paramount records in 1923. In the next five years, she recorded nearly 100 songs. In 2020, August Wilson's Tony Award winning play "Ma Rainey's Black Bottom" opened. Our own Marilyn Keller starred in a Portland production a few years ago.
My Honey's Lovin' Arms. 1922. Herman Ruby & Joseph Meyer. Arr., Steve Matthes. Vocal, Marilyn Keller.
One of Meyer's first musical compositions, this collaboration with lyricist Ruby became a hit as soon as it was released, later being covered by many notable performers. Our arrangement features Marilyn along with some tasty playing from banjoist Craig McKinley. If you enjoy the four-string work, make sure to check out Craig's wonderful duo recordings with his father John McKinley.
San. 1920. Lindsay McPhail & Walter Michels. Arr., Kit Johnson.
Tin Pan Alley composers seeking the next big hit were often attracted by popular thematic material, and as soon as one became in favor, everyone jumped on the topical bandwagon. Many novelty numbers in the early 1900s spoke to exotic lands and cultures, though few of the lyrics would have survived a "fact checking" editor. In this case the song is about the imaginary "King San of Senegal".
1919 Rag (March). H.A. Fischler & Traditional. Arr., Kit Johnson.
This traditional New Orleans number likely began life as various strains from Fischler's "Rough Riders" march and was then modified by New Orleans street musicians. Dick Baker and several music historian friends sorted through the mythology of the piece for Bob Erdos' Stomp Off label over several years. It was often erroneously attributed to another march, Karl King's "Rifle Rangers" and is sometimes referred to as a rag, as a march or simply as "1919".
You've Got to See Mama Every Night (or You Can't See Mama at All). 1923. Billy Rose & Con Conrad. Arr., Kit Johnson. Vocal, Marilyn Keller.
A hit for Sophie Tucker in 1923, this staple was later covered by Peggy Lee, Mamie Smith, Liza Minnelli, Homer & Jethro, Roy Acuff and others. It's good-natured ultimatum is appealing to performer and listener alike.
Down in Honky Tonky Town. 1916. Charles McCarron & Chris Smith. Arr., Kit Johnson. Vocal, Marilyn Keller.
Vaudevillian Chris Smith and short-lived Tin Pan Alley composer Charles McCarron collaborated on this festive romp about a young man and woman planning a spirited night on the town. It speaks to the fun of a rollicking underground music club: "There'll be singing waiters, singing syncopaters, dancing to piano played by Mister Brown."
Black Swan Glide. 2005. Steve Matthes.
Steve's original composition in march-style is based loosely on two different melodies from some old concert marches, altered so that they could be played on top of each other in the final strain. He wished to create a catchy tune with the band's name in the title!
Cut to the Bone. 2011. Kit Johnson.
Don Stone's wonderful slide work on such classics as "Trombone Rag" and "I am Pecan Pete" inspired Kit to write this original trombone tour de force for Don. The march-like form begins in a dark minor key and then moves to the relative major at the trio. Don gets to play just about all the notes on this one.
Aggravatin' Papa. 1922. Roy Turk & J. Russel Robinson. Arr., Kit Johnson. Vocal, Marilyn Keller.
Bessie Smith recorded this selection in February 1923 and other blues singers followed suit shortly thereafter. The lyrics are presented from the point of view of a woman who is reading the riot act to her two-timing man. There are some wonderful vocal breaks in this one that really allow the singer to insert some rather pointed messages.
Way Down Yonder in New Orleans. 1922. Henry Creamer & John Turner Layton, Jr. Arr., Kit Johnson. Vocal, Marilyn Keller.
Our final selection was first performed in the Broadway musical "Spice of 1922". The song was advertised by the composers, somewhat ironically, as a song about the south without the usual stereotypes that had become cliché in New York City songwriting circles.