Sweet Substitute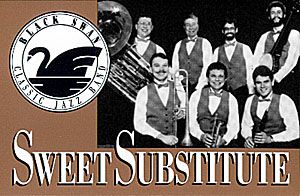 This recording is no longer available for purchase.
"Sweet Substitute" was the Black Swan Classic Jazz Band's first recording, produced in late 1990. This recording was released on cassette only. The recording was done at Gung Ho Studios in Eugene, Oregon. Engineering was by Bill Barnett and Michael Edwards. Liner notes were written by Kit Johnson and graphic design was by Joy Reid.
The musicians on this recording are as follows:
Liner Notes
The original liner notes read as follows:
THE CHANT - Mel Stitzel penned this composition which was recorded by several bands in the mid -1920s, including Fletcher Henderson's orchestra and Jelly Roll Morton's Red Hot Peppers. The arrange ment here resembles the Morton version which featured intricate ensemble lines and plenty of solos.
MY WALKING STICK - Irving Berlin gets credit for this seldom-heard tune, composed in 1938 for the movie Alexander's Ragtime Band. The piece begins with Ernie and the rhythm section and features Mark Hazzard on the vocal.
WOLVERINE BLUES - Originally entitled The Wolverines , this tune was composed by Jelly Roll Morton around 1906. The version heard here was inspired by the trio recording of Morton with Johnny Dodds on clarinet and Baby Dodds on drums. Mark Curry is featured with the rhythm section on this arrangement.
SWEET SUBSTITUTE - A Jelly Roll Morton composition, this ballad gets its special flavor from its rela tively uncommon harmonic progression. The rich chordal texture has made this song one of the band's favorites.
THERE'LL BE SOME CHANGES MADE - Billy Higgins wrote the words and W. Benton Overstreet composed the music for this 1921 song from the motion picture, Designing Women. Alan Phillips is the featured vocalist.
JUNK MAN RAG - This song was composed in 1913 by Lucky Roberts, a 20-year-old compatriot of Eubie Blake. Originally a piano rag, the version heard here was arranged by the BSCJB and features Mark Curry and Mark Hazzard on solos.
STORYVILLE BLUES - Originally entitled Bienville Blues , this traditional number made a comeback with the revivalist bands of the late 1940s. Mark Hazzard is featured on the piano.
CREOLE BELLES - Composed by J. Bodewalt Lampe, this song was first published as a "march two step" for piano. The mid-1950s recordings by the Yerba Buena Jazz Band and, later, Turk Murphy's Jazz Band, are the inspiration for this arrangement for the full ensemble.
VIPER'S DRAG - Written by Thomas "Fats" Waller, this is one of many songs which demonstrated his abilities as a composer as well as pianist. The piece begins with a slow, eerie drag in D minor, doubles the tempo, and shifts tonality to Eb major in the middle, then returns to a recap of the beginning. Mark Hazzard is featured on this arrangement inspired by Waller's 1934 recording.
GEORGIA SWING - This is another classic Jelly Roll Morton composition, based on a tune entitled She's Cryin' for Me by trombonist Santo Pecora.
ACE IN THE HOLE - Alan Phillips is the vocalist on this jazz standard. Ace in the Hole has been around since the early part of this century, but was largely forgotten until Turk Murphy's 1950s recordings.
WHEN IT'S SLEEPY TIME DOWN SOUTH - A classic jazz ballad, this song was composed by Leon & Otis Rene and Clarence Muse. Ernie's trumpet is featured on the opening and final choruses, which seems appropriate since this happened to be Louis Armstrong's theme song with his big band of the 1930s.
ECCENTRIC RAG - Composed by J. Russel Robinson in 1912, this piece was recorded by many wonderful jazz bands. The arrangement heard here was inspired by the Chicago style of Jimmy McPartland's Squir rels, themselves musical offspring of the great Bix Beiderbecke. Listen for the harmony breaks by Ernie and Mark Curry on the trio section.
YOUR FEET'S TOO BIG - Composed by Ada Benson and Fred Fisher, this piece is generally associated with pianist/vocalist Fats Waller. The vocal, featuring Mark Hazzard, warns of the potential perils of putting your best foot forward.
MINSTRELS OF ANNIE SREET - Renowned West Coast trombonist Turk Murphy composed this chart. It was written to commemorate Lu Watters' Yerba Buena Jazz Band, referred to by some as the Minstrels of Annie Street. James Meyer gets this one started with a call and response section between trombone and ensemble. The rest of this piece is filled with the rag-style solos and ensemble passages associated with West Coast traditional jazz.