A Joyful Noise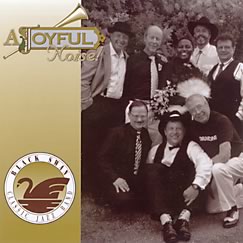 A Joyful Noise was recorded live in concert at the First Presbyterian Church in Corvallis, Oregon on February 6, 2000 (very early in the morning). Included are many of the popular gospel numbers that festival and concert audiences have come to love since Marilyn joined the band in 1997.
The musicians on this recording are as follows:
Buy this Album Online
| | | | |
| --- | --- | --- | --- |
| A Joyful Noise (CD) | $16.00 | | |
| A Joyful Noise (Cassette) | $11.00 | | |
Liner Notes
The original liner notes read as follows:
Gospel Music
The hymnals of my early years were full of songs written to inspire hope, instill faith, and echo the church's teachings. But our congregation, like many other white assemblies, never went beyond the sedate in their renditions – like the rest of the service. As I recall that time, joyous expression took a backseat to decorum. In fact, the most interesting thing about singing in church was when I had acquired enough reading skills to do a bass or tenor part, although one usually went too low and the other too high.
In gospel music, however, the expression of joy is central to the singing, while the congregation – clapping and rocking to the rhythms – responds spontaneously, giving shouts of encouragement during the sermons, including ?Amen? and ?Wake 'em up, brother!? When Marilyn Keller sings Aunt Hagar's Children's Blues, By and By, or At a Georgia Camp Meeting, it's hard to sit still. You'll want to take part. This CD contains a few numbers of a quieter nature such as Solace, Deep River Medley, and Precious Lord, the latter being special to Marilyn, as it was her mother's favorite hymn. But for the most part, the songs here have a cheery optimism and urge us to get off our seats and celebrate the happy times awaiting us all. As the Angel Gabriel tells us, ?I will shout, and I'll dance...when Old Gabriel am blowing his horn.? We hope you will, too.
John Bennett
March 2000

Music
Get Happy1. 1929.
Harold Arlen & Ted Koehler. Arr., John Bennett. Vocal, Marilyn Keller. [2:49]
Aunt Hagar's Children's Blues1. 1919.
W.C. Handy & J. Tim Brymn. Arr., Kit Johnson. Vocal, Marilyn Keller. [4:44]
This Train2.
Traditional.Arr., Steve Matthes. Vocal, Steve Matthes and Marilyn Keller. [3:30]
Holy Moses3. 1906.
C. Seymour. Arr., John Bennett, Kit Johnson, and Glenn Koch. [2:50]
In the Sweet By and By1. 1868.
Fillmore Bennett and J.P. Webster. Arr., Kit Johnson. Vocal, Marilyn Keller. [3:54]
Joshua Meets the Stranger Medley1.
Traditional. Joshua Fit de Battle of Jericho and Wayfaring Stranger. Arr., Kit Johnson. Vocal, John Bennett, Steve Matthes, and Marilyn Keller. [4:08]
Precious Lord1. 1939.
Thomas A. Dorsey. Arr., Kit Johnson. Vocal, Marilyn Keller. [4:48]
Fifty Miles of Elbow Room1.
Traditional. Arr., James Meyer. Vocal, Alan Phillips and Marilyn Keller. [3:40]
Angel Gabriel1. 1875.
Frank Dumont & James Stewart. Arr., Kit Johnson. Vocal, Marilyn Keller, John Bennett, Steve Matthes, Lew Chapman and Alan Phillips. [4:55]
By and By1.
Traditional. Arr., Kit Johnson. Vocal, Marilyn Keller, John Bennett, Steve Matthes, Lew Chapman and Alan Phillips. [5:24]
Solace3. 1909.
Scott Joplin. Piano, John Bennett. [3:00]
At a Georgia Camp Meeting1. 1897.
Kerry Mills. Arr., Kit Johnson. Vocal, Marilyn Keller. [4:13]
Down by the Riverside1.
Traditional. Arr., Kit Johnson. Vocal, Steve Matthes and Marilyn Keller. [3:43]
Deep River Medley1.
Spirituals: Deep River and Roll, Jordan, Roll. Arr., John Bennett. Vocal, Marilyn Keller. [4:58
When the Saints Go Marching In1.
Traditional. Arr., Kit Johnson. Vocal, Marilyn Keller and Steve Matthes. [3:35]

1. Recorded in concert at the First Presbyterian Church, February 6, 2000
2. Recorded at Lutesong Studios August 22, 1999
3. Recorded at Lutesong Studios March 8, 2000