Lew Chapman - Superbone
Lew was with the band from 1998 into 2007. He is an active musician that performs on a variety of brass instruments in the southwestern Washington area.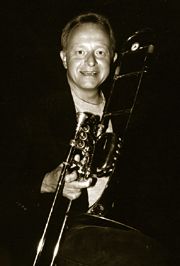 "Never seen a horn like that before!" Lew Chapman hears that comment after just about every Black Swan festival set performed for first time listeners of the band. New fans are always intrigued by his "Superbone," a combination slide/valve trombone which has been Lew's unique trademark since 1976.
After graduating from high school he attended the Naval School of Music in Little Creek, Virginia and was assigned to the 214th Army Band (Forscom's Own) in Atlanta, Georgia in 1975. During this assignment, Lew played solo euphonium in the concert band and trombone in the jazz and dixieland ensembles. He says he really learned how to play jazz by "sitting in" at the local clubs in Atlanta in the late '70's and early '80's, and by listening to everything he could get his hands on, from Louis Armstrong to John Coltrane. During this rewarding career in the U.S. Army, Lew became so adept as an improvisationalist, that, in 1987, he was asked to join the "cream of the crop" Jazz Ambassadors. The JA is the 19 piece official touring jazz big band of the Army, performing free concerts for audiences all over the world.
After 24 years of working in Uncle Sam's bands, Lew chose to hang up his combat boots and move back to the Pacific Northwest where he grew up. A month after moving, he met Black Swan's vocalist, Marilyn Keller. It was through Marilyn that Lew landed the gig with the Swans.
In 2001, Lew headed north from the Willamette Valley and settled back in his hometown of South Bend, Washington, where he resides today.
Besides Black Swan, Lew recorded and performed with Lily Wilde and Her Jumpin' Jubilee Orchestra, and also was the co-founder of West Side of Chicago that he and a lifelong friend started up in 2002. "When I moved back to South Bend after almost 30 years of being away, we thought it would be a great idea to go back and play the music we grew up with in the '70's". The band features the music of the group, "Chicago."
Even though Lew plays all styles of music, he says there's something very rewarding and special about playing the popular music of the early 20th century. "It's where jazz started....without Trummy Young, Jack Teagarden and all the many early jazz trombone pioneers, I wouldn't be where I'm at today. I'll be forever grateful for those 'teachers' that I can still listen to today."
Lew's current discography includes
Jazz Ambassadors: In a Sentimental Mood
Jazz Ambassadors: Boogie Woogie Bugle Boy
Jazz Ambassadors: A Change in the Weather
Jazz Ambassadors: The Jazz Ambassadors
Jazz Ambassadors: A Tribute to Stan Kenton
Jazz Ambassadors: The Legacy of Hank Levy
Lily Wilde: Insect Ball (available at www.LilyWilde.com)
In addition, Lew appears on these Black Swan recordings
Other Links