Dance Hall Favorites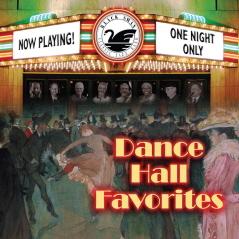 Dance Hall Favorites is a two-CD set from live concerts recorded at various performing arts centers in Oregon, California and Washington. It contains over two hours of fine music, including 28 song tracks.
The musicians on this production are as follows:
Mastering was by Bryan Shaw, graphics by Joy Reid, liner notes by Scott Yanow and production by SuperDigital Ltd.
Free, Full-length Sample Song
Buy this Album Online
| | | |
| --- | --- | --- |
| Dance Hall Favorites (CD) | $26.00 | Quantity: |
Liner Notes
The original liner notes read as follows:
Kit Johnson, leader and tuba player with the Black Swan Classic Jazz Band, remembers how the previously unreleased performances on this two-CD set came to exist. "At these four concerts from 2002-2005, we provided not only the music but our own sound system, so I recorded everything. A few months ago, I rediscovered the music, listening to it again as I was transferring it to more current media. I realized that there was a lot of material that we had not released before (18 of the 28 selections while the other ten had different arrangements) and that it was pretty good." The latter appraisal is an under-statement for the performances perfectly sum up the Black Swan band and are full of impressive musicianship and spirit.
The Black Swan Classic Jazz Band was founded in 1989, and from its start it has had its own musical personality. "Fletcher Henderson in the early 1920s was the musical director for the Black Swan label, and I was a Fletcher fan, so I named the band after that label." Since its birth, the Black Swan Classic Jazz Band has become a regular attraction at jazz festivals, been featured on jazz cruises, and performed at casuals and special events. Rather than merely recreate the past or use standard frameworks, the band has become known for creating its own arrangements (more than 300 are in their book), giving fresh and sometimes surprising treatments to its songs, which include ragtime, 1920s jazz, swing standards, blues, trad jazz classics and a variety of unclassifiable but spirited music. The material is not performed as a museum piece but as lively and relevant music, full of swing, creativity and joy.
The group heard throughout these concerts is consistently impressive. A major asset is trumpeter Ernie Carbajal, an original member of the band who passed away in 2008. His solid lead and inventive solos uplift each performance. Trombonist Lew Chapman, who was with Black Swan during 1998-2007, plays the superbone, a combination slide/valve trombone that adds variety and excitement to the ensembles. Clarinetist Steve Matthes, a member of the group since 1992, is not just a fluent player but a skilled arranger, as is pianist John Bennett, who joined the band in the same period. Bennett's mastery of stride and ragtime has helped define Black Swan's sound. Drummer Ron Leach is a tasteful and subtle drummer who became a member of the group in 2001. Banjoist Alan Phillips, an understated player who helped to keep the rhythm steady and swinging, was with Black Swan on and off during 1990-2006 and was the main vocalist before Marilyn Keller joined. "When Alan left the band for the first time in 1996," remembers Kit, "our collective vocal talents were, to be honest, not too impressive. I decided that we needed to add a professional vocalist. Marilyn was enthusiastic about joining us and has worked out very well. The audience quickly fell in love with her and she energized the band." As for the leader, his tuba playing provides a light but steady rhythm to the ensembles and behind the soloists. In addition, he is responsible for the majority of the group's arrangements.
Since there are 28 performances on the two-CD set and the music is easy to enjoy, a complete play-by-play is unnecessary. I'll just name a few highlights. The opening selection, Jelly Roll Morton's Georgia Swing, is an excellent introduction to the group. There'll be Some Changes Made benefits from Alan Phillips not only singing the familiar chorus but two rarely heard verses, which set up the song. Marilyn Keller is a delight throughout, particularly on a conversational version of A Porter's Love Song to a Chambermaid, the crowd pleasing Cakewalking Babies From Home, and a sensuous Squeeze Me. Her vocal duet with Alan Phillips on Call of the South (on which they sing two different songs at once), and the group vocals on By and By and I Ain't Got Nobody are not to be missed.
Instrumentally there are many excellent moments including John Bennett's piano feature on Fats Waller's Viper's Drag, a fine trade of fours between Ernie Carbajal and Lew Chapman on Struttin' With Some Barbeque, and Steve Matthes' playing on High Society. A special highlight are two recently discovered Louis Armstrong compositions, Papa, What Are You Trying to Do to Me and When You Leave Me Alone to Pine, which Randy Sandke passed on to Ernie Carbajal, who adapted them for the band.
The Black Swan Classic Jazz Band, which celebrated its 20th year in 2008, is heard at its best throughout these previously unreleased performances, infusing the timeless music with inventiveness and an infectious spirit.
Scott Yanow*
January 2010

*Author of ten jazz books including Classic Jazz, The Jazz Singers, Trumpet Kings, Jazz on Record 1917-76, and Jazz on Film.
MUSIC: Disc 1
Georgia Swing. Morton & Pecora. Arr., Kit Johnson. (C)...[2'49"]
River, Stay 'Way from My Door. Woods & Dixon. Arr., Kit Johnson. Vocal, Marilyn Keller. (C)...[4'13"]
Papa, What Are You Trying to Do to Me? (I've been Doing it for Years). Armstrong & McDonald. Arr., Randy Sandke & Ernie Carbajal. (A)...[5'03"]
There'll Be Some Changes Made. Higgins & Overstreet. Arr., Kit Johnson. Vocal, Alan Phillips. (A)...[5'04"]
Storyville Blues. Pinkard. Arr., Kit Johnson. (C)...[3'52"]
A Porter's Love Song to a Chambermaid. Johnson & Razaf. Arr., Kit Johnson. Vocal, Marilyn Keller. (C)...[4'36"]
Joe Avery's Blues. Traditional. Arr., Kit Johnson. (A)...[3'28"]
Call of the South. Berlin & Foster. Arr., Kit Johnson. Vocal, Marilyn Keller & Alan Phillips. (D)...[4'38"]
Annie Street Rock. Watters. Arr., Kit Johnson. (D)...[4'01"]
Go Back Where You Stayed Last Night. Waters & Easton. Arr., Steve Matthes. Vocal, Steve Matthes. (A)...[5'39"]
Struttin' With Some Barbecue. Hardin. Arr., Kit Johnson. (A)...[3'46"]
Cakewalking Babies from Home. Williams, Troy & Smith. Arr., Kit Johnson. Vocal, Marilyn Keller. (C)...[4'25"]
Basin Street Blues. Williams. Arr., Kit Johnson. (A)...[5'01"]
Where did Robinson Crusoe Go? Lewis, Young & Meyer. Arr., Steve Matthes. Vocal, Alan Phillips. (D)...[4'02"]
MUSIC: Disc 2
Black Bottom Stomp. Morton. Arr., Kit Johnson. (A)...[3'22"]
(We'll Understand it Better) By and By. Tindley. Arr., Kit Johnson. Vocal, Marilyn Keller, Alan Phillips, Steve Matthes, John Bennett & Lew Chapman. (B)...[5'45"]
Blue Turning Gray Over You. Waller. Arr., Don Gibson. (C)...[6'04"]
San Francisco Bay Blues. Fuller. Arr., Kit Johnson. Vocal, Alan Phillips. (A)...[4'20"]
When You Leave Me Alone to Pine. Armstrong & Hardin. Arr., Randy Sandke & Ernie Carbajal. (C)...[5'00"]
High Society. Steele. Arr., Kit Johnson. (C)...[4'13"]
Squeeze Me. Waller, Razaf & Williams. Arr., John Bennett. Vocal, Marilyn Keller. (C)...[4'00"]
Coal Cart Blues. Armstrong. Arr., Kit Johnson. (C)...[3'23"]
Bullfrog's Melody. Johnson. Arr., Kit Johnson. Vocal, Alan Phillips. (A)...[4'35"]
Viper's Drag. Waller. Arr., John Bennett. (A)...[4'17"]
Dallas Blues. Garrett & Wand. Arr., Kit Johnson. Vocal, Marilyn Keller. (D)...[4'38"]
Wild Man Blues. Armstrong & Morton. Arr., Kit Johnson. (C)...[4'11"]
I Ain't Got Nobody (And Nobody Cares for Me). Williams & Graham.Arr., Steve Matthes. Vocal, Steve Matthes, Alan Phillips, John Bennett & Lew Chapman. (A)...[3'28"]
Muskrat Ramble. Ory. Arr., Kit Johnson. (D)...[3'46"]
(A) Florence Performing Arts Association Events Center
Florence, Oregon; November 16, 2002
(B) Florence Performing Arts Association Events Center
Florence, Oregon; November 17, 2002
(C) Norris Center for the Performing Arts
Rolling Hills Estates, California; May 18, 2003
(D) Garfield Performing Arts Center
Camas, Washington; October 15, 2005