This Joint is Jumpin'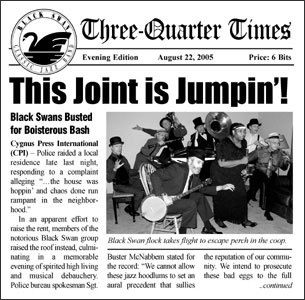 This Joint is Jumpin' was recorded in Portland, Oregon spring and summer 2005. This recording features a varied selection of vintage jazz and ragtime, primarily from the late 1910s through the 1930's. It is available in CD format.
The musicians on this recording are as follows:
Free, Full-length Sample Songs
Buy this Album Online
| | | |
| --- | --- | --- |
| This Joint is Jumpin' (CD) | $16.00 | Quantity: |
Liner Notes
The original liner notes read as follows:
Black Swans Busted for Boisterous Bash
Cygnus Press International (CPI) – Police raided a local residence late last night, responding to a complaint alleging "'the house was hoppin' and chaos done run rampant in the neighborhood".
In an apparent effort to raise the rent, members of the notorious Black Swan group raised the roof instead, culminating in a memorable evening of spirited high living and musical debauchery. Police bureau spokesman Sgt. Buster McNabbem stated for the record: "We cannot allow these jazz hoodlums to set an aural precedent that sullies the reputation of our community. We intend to prosecute these bad eggs to the full extent of the law. They exhibited dangerous levels of syncopation and irresponsibly practiced polyphony without a license!"
The celebration attracted diverse revelers from both uptown and downtown locales. Varied in background, they nevertheless joined together in a riotous display of indignation when police disrupted the frivolity. Parasols crossed fiercely with night sticks as law enforcement officials scrambled to break up the second line, and reinforcements had to be called in from the 4th Precinct.
One octogenarian, speaking the next morning on condition of anonymity noted, "I ain't had this much fun since I sold short in '29. If them coppers hadn't come burstin' in so soon I'd 'ave been out the door with that fresh young widow from the sixth floor. Damn 'em!"
"What an awesome party", exclaimed local swing dancing icon Hedda Verheels. "I was tossed and turned all night long."
Rumors remain unconfirmed that the guests included several community dignitaries and socialites. Mayor Frank S. Peek was not immediately available for comment, though his aide dutifully noted that "the mayor will not stoop to respond to such insidious speculation and yellow journalism. A man's private life should remain private - including what he chooses to listen to!"
Black Swan has no past record of such outbreaks, but music industry analysts were not surprised. "I've watched this hatch for some time now", said record executive Cary A. Tune. "You simply can't incubate hot music for such an extended period without eventually breaking out of your shell. At long last this group has cracked up."
The band was eventually rounded up after a desperate drum break and chase chorus. They are being held pending arraignment later this month. At this time there is no indication as to how or if they plan to make bail.
Kit Johnson
August 2005

Music
This Joint is Jumpin'. 1938. Andy Razaf, J.C. Johnson & Thomas Waller. Arr., Kit Johnson. Vocal, Marilyn Keller...[4'48"]

Tia Juana. 1924. Larry Conley & Gene Rodemich.; Arr., Ernie Carbajal... [3'38"]

I'd Give a Dollar for a Dime. 1940. Andy Razaf, Eubie Blake & Johnny Finke. Arr., Kit Johnson. Vocal, Marilyn Keller... [3'52"]

Minnie the Moocher. 1930. Cab Calloway, Irving Mills & Clarence Gaskill. Arr., Kit Johnson. Vocal, Marilyn Keller... [3'48"]

Danza de los Nanigos. 1930. Ernesto Lecoana. Arr., John Bennett... [2'41"]

Floatin' Down the Old Green River. 1915. Bert Kalmar & Joe Cooper. Arr., Kit Johnson. Vocal, Alan Phillips... [5'35"]

Michigander Blues. 1929. Jabbo Smith. Arr., Steve Matthes & Kit Johnson... [3'55"]

Shreveport Stomps. 1925. "Jelly Roll" Morton. Arr., Kit Johnson... [4'03"]

Sweet Mama Stringbean. 2000. Steve Matthes. Arr., Steve Matthes. Vocal, Marilyn Keller... [6'57"]

Dude Ranch Blues. 1999. Kit Johnson. Arr., Kit Johnson. Vocal, Marilyn Keller... [3'53"]

East St. Louis Toodle-Oo. 1926. Edward "Duke" Ellington & Bubber Miley. Arr., Ernie Carbajal... [4'08"]

Scott Joplin's New Rag. 1912. Scott Joplin. Arr., John Bennett... [3'34"]

Midnight in Moscow. V. Soloviev-Sedoy, M. Matusovsky & K. Ball. Arr., Kit Johnson. Vocal, John Bennett... [4'15"]

Lassus Trombone. 1915. Henry Fillmore. Arr., Steve Matthes.... [3'05"]

Atlanta Blues. 1923. W.C. Handy & Dave Elman. Arr., Kit Johnson. Vocal, Marilyn Keller... [5'06"]

TOTAL TIME: ... [63'18"]