Sweet Lotus Blossom
This album is no longer available for purchase.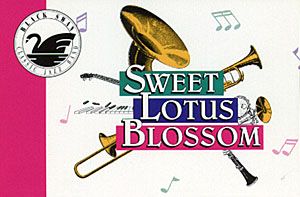 Sweet Lotus Blossom" was one of two recordings by the Black Swan Classic Jazz Band produced in April 1992. This recording was available on cassette only. The recording was done at Lutesongs Studio in Portland, Oregon. Engineering was by Dana Lutes. Liner notes were written by Kit Johnson and graphic design was by Joy Reid.
The musicians on this recording are as follows:
Liner Notes
The original liner notes read as follows:
YERBA BUENA STRUT - This is one of the classic "form" charts which was composed by Lu Watters and his Yerba Buena Jazz Band in the 1940s. The arrangement heard here is true to Lu's own San Francisco style of traditional jazz.
WILD CHERRIES RAG - John Bennett arranged Wild Cherries Rag for Black Swan in late 1991. It was written in 1908 by Ted Snyder and quickly sold over one million copies. This arrangement allows all the tonal instruments to have a shot at the melody line, and features John's tasty ragtime piano work.
SWEET LOTUS BLOSSOM - Created by Sam Coslow and Arthur Johnston in 1935 for the movie Murder at the Vanities, the original title Marijuana, was considered to risque and was later changed to Sweet Lotus Blossom. Alan Phillips is the spotlighted vocalist.
BLUE TURNING GREY OVER YOU - A delightful standard composed by Thomas "Fats" Waller and immortalized by the great Louis Armstrong, Black Swan's instrumental version has the dancers in mind.
SHIM-ME-SHA-WABBLE - Spencer Williams is credited as composing Shim-Me-Sha-Wabble, one of a handful of spirited songs of the 1920s which begins in a minor key and then built intensity and exuberance by modulation to a related major key. This arrangement features solos by John Bennett and the horn section.
JAZZIN' BABIES BLUES - King Oliver recorded Richard M. Jones' Jazzin' Babies Blues in the mid-1920s. Oliver's arrangement later became a favorite of many revivalist bands, including Doc Evans' and Lu Watters' groups, and inspired this recording.
MISSISSIPPI RAG - Bandleader William Krell wrote Mississippi Rag in response to a publisher's competition for composers to copyright the first ragtime work. Krell won the competition in Chicago in 1897, three days prior to the publishing of R.J. Hamilton's Ragtime Patrol. Turk Murphy later orchestrated the piece in this recorded version with some modification to the original score.
DINAH - Sam Lewis, Joe Young and Harry Akst collaborated on this energetic number, popularized by Fats Waller. Mark Curry takes center stage with the vocal and his clarinet work.
THE CHEVY CHASE - Eubie Blake created "The Chevy Chase", published in 1914, one year before he teamed up with Noble Sissle. Black Swan's rendition is one of few scored for a full ensemble.
THAT DA-DA STRAIN - Written by Medina and Dowell, this traditional jazz classic features Ernie Carbajal and the rhythm section's solos, as well as a nice horn chorus by the front line.
CANNON BALL BLUES - Jelly Roll Morton, Charlie Rider and Marty Bloom co-wrote "Cannon Ball Blues", which was recorded by Morton's Red Hot Peppers in the late 1920's. This blues is noteworthy for its unorthodox key change in the final section.
BIG BUTTER AND EGG MAN - Alan Phillips is the vocalist on "Big Butter and Egg Man", which was composed for Carroll Dickerson's Band by Percy Venable while the group was performing at the Sunset Cafe. The song became a popular favorite of Dickerson's star trumpet man - Louis Armstrong.
ORY'S CREOLE TROMBONE - Edward "Kid" Ory composed and recorded this trombone tour de force, which later became an oft requested feature for Turk Murphy. James Meyer's solo line features elements of both Murphy's and Ory's distinctive styles.
ALABAMA RAG - John Bennett on piano and Glenn Koch on washboard teamed up for this ragtime number, composed by Joseph Lamb. This rag was not located and published until 1960, shortly after Lamb's death.
PERDIDO STREET BLUES - Lil Hardin and Louis Armstrong were the composers of Perdido Street Blues. The piece is noteworthy for blending minor and major blues strains and Ernie Carbajal's rendi tion of Louis' stylistic trumpet line.
NEW ORLEANS - John Bennett arranged Hoagy Carmichael's " New Orleans " for the Black Swan Classic Jazz Band in 1991. His orchestration features clarinet lead and rhythm section solos.
FIFTY MILES OF ELBOW ROOM - Alan Phillips and James Meyer share vocal honors on "Fifty Miles of Elbow Room". This up-beat gospel song is a classic example of the spirit and energy contributed to jazz by non-secular music.