Woodsheddin'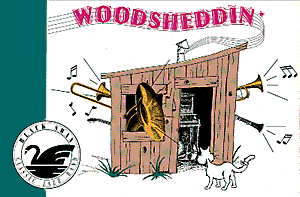 This recording is no longer available for purchase.
"Woodsheddin'" was the second of two recordings by the Black Swan Classic Jazz Band produced in April 1992. This recording was available on cassette only. The recording was done at Lutesongs Studio in Portland, Oregon. Engineering was by Dana Lutes. Liner notes were written by Kit Johnson and graphic design was by Joy Reid.
The musicians on this recording are as follows:
Liner Notes
The original liner notes read as follows:
BLACK BOTTOM STOMP - Certainly one of the greatest jazz compositions, this Jelly Roll Morton tune incorporates multiple themes, breaks, "Spanish tinge" stop-time, and intermixed two- and four-beat rhythm into approximately three minutes of fabulous jazz music. Enjoy!
BLACK SNAKE BLUES - King Oliver's Dixie Syncopators' recording of Cheniev's Black Snake Blues inspired this arrangement. It was also recorded by several blues vocalists, including Victoria Spivey in 1926, and Blind Lemon Jefferson in 1927 (the Jefferson recording used more risque lyrics and the title "Black Snake Moan").
ORIENTAL STRUT - Johnny St. Cyr, banjoist with Louis Armstrong's Hot Five group, created Oriental Strut and recorded it with the Hot Five in Chicago on February 26, 1926. The Hot Five version is altered here only by the addition of Mark's clarinet solo over the minor strain.
ALLIGATOR CRAWL - John orchestrated this spirited Fats Waller composition and is featured along with Ernie and Mark. John's scoring, utilizing constantly changing tone colors on the melody line, brings back memories of the sophisticated New York sound of the 1920s.
MELANCHOLY BLUES - James sings the lead and is accompanied by Mark and Alan on backup vocals on this wonderful old blues, credited to Rube Bloom, Walter Melrose and Elmer Schoebel.
THE PEARLS - Often cited as Jelly Roll Morton's most mature composition, The Pearls was written in 1925 and recorded by the Red Hot Peppers in 1927. The inspiration for this arrangement comes from the '27 recording and Bob Scobey's San Francisco sound.
WHAT YOU WANT ME TO DO - A delightful blues written by Joe "King" Oliver and Clarence Williams, this number features soprano sax and clarinet leads with muted brass background. The sweet sound and extensive use of blue notes were Oliver trademarks.
SAILING DOWN THE CHESAPEAKE BAY - Written by G. Botsford and J. Havez, this is a prime ex ample of the " Dixie " style. Alan's vocal takes center stage along with solos by Mark and John.
RHYTHM KING - Joe Hoover and Jo' Trent wrote this traditional jazz number. The instrumental version heard here is reminiscent of the Bix Beiderbecke and His Gang recording of 1928.
I WANT A LITTLE GIRL - Ernie's trumpet is featured with piano and drums on this Mencher and Moll ballad. This is a great song for snuggling close on the dance floor...if you go in for that sort of thing.
COME BACK SWEET PAPA - Drummer Paul Barbarin and pianist Luis Russell collaborated on this composition, also featured on the Hot Five recordings.
ME AND JANE IN A PLANE - Alan's vocal and James' aerobatic trombone are the highlights of this novelty number. Have a nice flight!
ANTIGUA BLUES - Lu Watters composed Antigua Blues aboard the ship it was titled after, along with several other compositions which have become staples in the traditional jazz library. This arrangement is loosely based on Lu's own Yerba Buena Jazz Band recording.
CATARACT RAG - John scored Robert Hampton's rag for the unusual combination of piano, trombone, tuba and washboard. This is a refreshing number for those who like to hear more than just tailgating and oompahs from the low brass.
AT THE JAZZ BAND BALL - Written and recorded by D.J. LaRocca and Larry Shields with the Original Dixieland Jazz Band in 1917, this number was recorded by Bix Beiderbecke and His Gang ten years later. Bix' recording influenced the arrangement heard here.
BLUE PRELUDE - Containing the rich harmonic structure associated with Duke Ellington's compositions, James' trombone is featured here along with Ernie's muted trumpet.
DOCTOR JAZZ - John's vocal is spotlighted on this King Oliver and Walter Melrose classic, which was recorded by several of Oliver's contemporaries, including Jelly Roll Morton.