Spreadin' Rhythm Around
This recording is no longer available for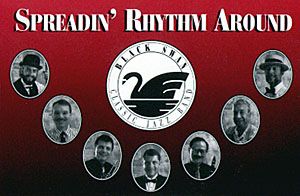 purchase.
"Spreadin' Rhythm Around" was recorded by the Black Swan Classic Jazz Band, on October 10, 16 & 17, 1993. This recording was available on cassette and compact disk. The recording was done at Lutesongs Studio in Portland, Oregon. Engineering was by Dana Lutes. Liner notes were written by John Bennett, Steve Matthes and Kit Johnson, and graphic design was by Joy Reid.
The musicians on this recording are as follows:
Liner Notes
The original liner notes read as follows:
SNAKE RAG - Snake Rag was written by Joe "King" Oliver and first recorded by his Creole Jazz Band in 1923, the same session which produced Dippermouth Blues . The name comes from the slithery breaks by the trumpet, clarinet and trombone.
WASHBOARD BLUES - This 1926 Hoagy Carmichael, Fred Callahan and Irving Mills song was sung by Hoagy with the Paul Whiteman Orchestra while dressed in a "Mother Hubbard" and seated at a wash board. Hoagy had previously been practicing law in Florida when he happened to hear a recording of Washboard Blues by the Red Nichols band. That was all it took for Hoagy to take down his shingle and head back to Indiana and his first love - music. This John Bennett arrangement is inspired by the Fats Waller version and features Alan Phillips as the vocalist (sans dress).
LITTLE LAWRENCE - Jelly Roll Morton paid homage to Lorenzo Tio, Jr., the great New Orleans clarinet ist in this piece. The "Little" in the title refers to an anatomical feature. Black Swan's own clarinetist, Steve Matthes, is credited with this arrangement.
CHARLESTON MEDLEY - Living in New York, James Johnson composed The Charleston for the South Carolina blacks who came to the city to work as longshoremen. You'll take to your feet, too, with this assortment of snappy dance tunes arranged by John Bennett. Also included are Varsity Drag, The Girl Friend, Top Hat, White Tie and Tails , and Puttin' on the Ritz. "SUPER DUPER!"
DARK IS THE NIGHT - In this nostalgic ballad from Russia a young soldier yearns to be with his loved ones, separated by the dark, war-torn steppe. The song was composed by Agator and Bogo Slavsky; the arrangement and Russian vocal are by John Bennett.
TROMBONE RAG - James Meyer is the featured trombonist on this classic by Turk Murphy, originally recorded by Turk with the Lu Watters band in 1946. Rumor had it that Turk grew tired of another trom bonist imitating his style in 1942, so he crafted this difficult number in the key of Db to frustrate the fan's attempts at mimicry. Naturally, it became one of the most popular features for jazz trombonists every where.
SPREADIN' RHYTHM AROUND - Fats Waller popularized this Ted Koehler and Jimmy McHugh num ber. It was featured in "Ain't Misbehavin'," the extraordinary musical that brought to life Fats' world. In this version each member of the band has a chance to be Fats for a few bars.
CHELSEA ON DOWN - Chelsea On Down is a recent composition in the San Francisco style by Robin Wetterau, pianist with the Red Onion Jazz Band. Like many of Lu Watter's compositions (such as Big Bear Stomp, Sage Hen Strut and Yerba Buena Strut ), Wetterau's composition begins in minor and modulates through several key changes, ending in a major key. These compositions borrowed closely from the rag time style, with multiple repeated sections and keys.
THE MOOCHE - The Mooche is credited to Duke Ellington and Irving Mills and was recorded by the Cotton Club Orchestra in 1928. This blues from the "Jungle Band" era became a standard in Ellington's repertoire, and was scored to feature his wonderful reed section, at the time consisting of Johnny Hodges, Rudy Jackson and Harry Carney. It also generally featured the growl trumpet of Bubber Miley, though Miley missed the 1928 recording session.
EVERY EVENING (I MISS YOU) - Every Evening is a Jimmy McHugh, Billy Rose and M. Hemmings dance number which was recorded by the Jimmy Noone and the Earl Hines Apex Club Orchestra in 1928. This Steve Matthes arrangement lets everyone have a shot at the melody.
BALLIN' THE JACK - Chris Smith and Jim Burris wrote this pop tune, THE number one hit of 1913. Alan Phillips sings the vocal depicting the dance craze of that era.
LITTLE JOHN'S RAG - Turk Murphy created Little John's Rag in 1949. This well-crafted arrangement shows Turk's thorough understanding of the ragtime and west coast traditional jazz styles, as well as his sense of orchestration.
RIALTO RIPPLES - George Gershwin and Will Donaldson collaborated on Rialto Ripples in 1917, toward the end of the ragtime era. Gershwin was still a teenager. Had he been born sooner, perhaps he would have written more than this one rag, but the age of jazz and musical theater were already beckoning to him. John Bennett is at the keyboard with Glenn Koch on washboard.
MISS THE MISSISSIPPI AND YOU - This waltz was composed by B. Halley and popularized by Jimmy Rogers, the "Singing Brakeman." Aside from Waller's Jitterbug Waltz and a handful of Rags in 3/4 time, there are very few traditional jazz waltzes. This waltz has a country and western quality about it, but became a favorite of the group with its beautiful melody and the appropriate title. Miss the Mississippi features Alan Phillips on the vocal.
I FOUND A NEW BABY - Spencer Williams and Jack Palmer composed I Found a New Baby, one of two Spencer Williams selections on this recording. This up-tempo version features Ernie Carbajal on trumpet, Glenn "Pappy" Koch on drums, and the rarely heard verse.
LEVEE REVELS - William Christopher O'Hare's "Cane Hop" was published in 1898. O'Hare was from Shreveport, Louisiana, and the Cane Hop must have been a local folk dance style. The composition fea tures unusual 18 and 20-bar phrases and hearkens back to the plantation music of an earlier generation. A "Stephen Foster-like" melody is performed by the banjo with a call and response interlude by the horns. The original piano version can be heard in the second strain, but the rest of the arrangement belongs to Steve Matthes.
TISHOMINGO BLUES - Tishomingo Blues is the second Spencer Williams selection on this recording, and was a national hit in 1917. While working in Paris as a song writer and accompanist, Williams and this tune helped launch the career of Josephine Baker. Tishomingo is a Mississippi gulf town. The arrange ment and vocal are by John Bennett.
COPENHAGEN - This classic by Davis and Melrose was frequently recorded in the 1920s. One of the earliest recordings was by the California Ramblers, with subsequent renditions by Fletcher Henderson's ensemble with Louis Armstrong in 1924, Bix Beiderbecke's recording with the Wolverines in 1927, another Henderson recording featuring the great arrangement by Don Redman in the same year, and a multitude of lesser known versions. This west-coast style arrangement is by Kit Johnson.