Hoagy, Heart & Soul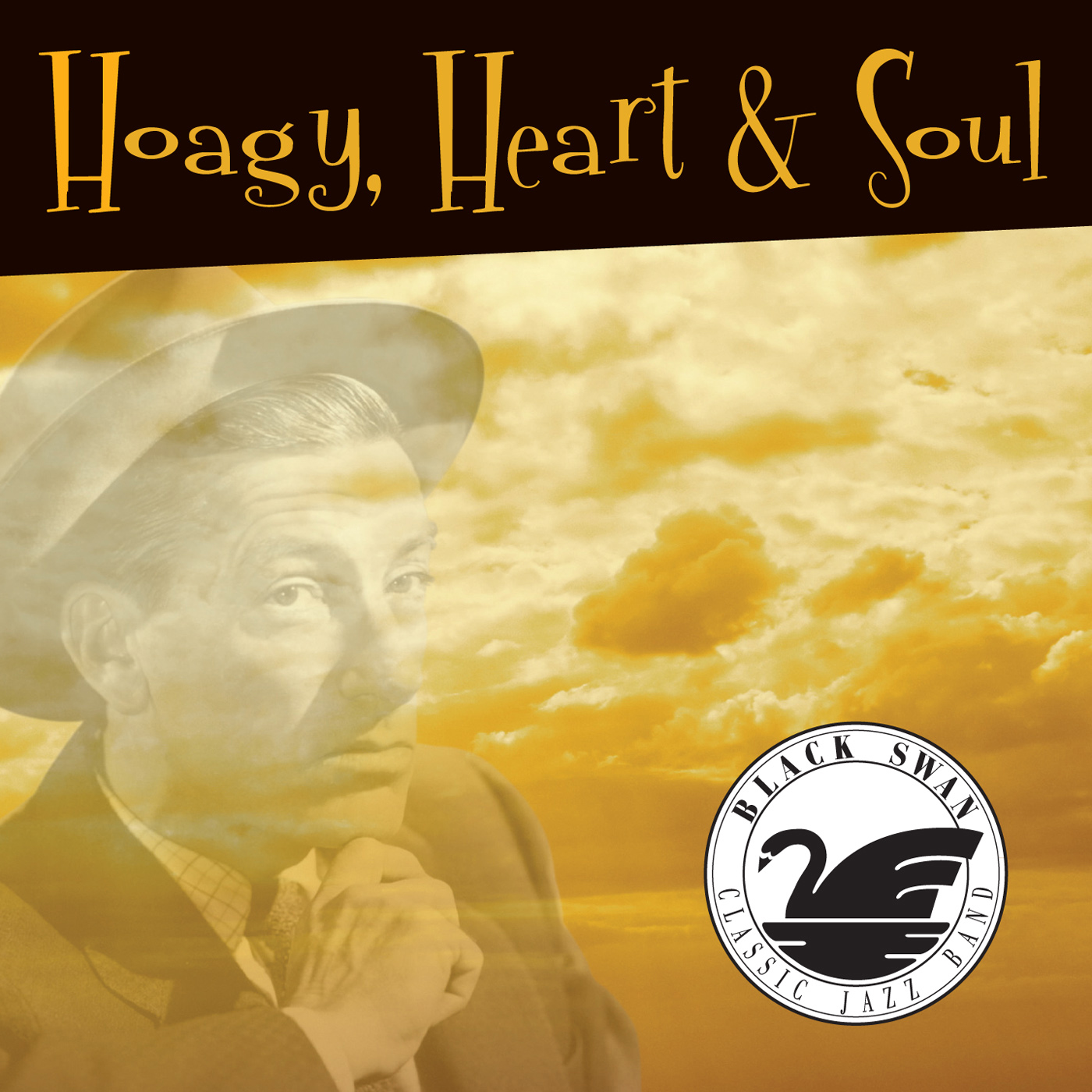 Hoagy, Heart & Soul is a collection of 16 early Hoagy Carmichael compositions played in a hot jazz style. This collection is perfect for dancing and listening. Included are recognizable favorites and rarely heard gems, with featured vocals by Marilyn Keller and Alan Phillips.
The musicians on this production are as follows:
The recording and mixing was engineered by Kit Johnson. Mastering was by Bryan Shaw. Joy Kodani provided graphic art work. Liner notes were drafted by John Bennett. Recorded at Fast Buck Studios, Portland, OR.
Buy this Album Online
| | | |
| --- | --- | --- |
| Hoagy, Heart & Soul (CD) | $16.00 | Quantity: |
Liner Notes
The original liner notes read as follows:
Play a Hoagy Carmichael song and you can feel the sounds and sights of summer, while lingering in the shade of a kind, old tree or enjoying the view from your porch in your old rockin' chair. Hoagy's music was mostly about an easy-going life in small-town America.
Howard Hoagland "Hoagy" Carmichael (November 22, 1899 – December 27, 1981) was composer, pianist, singer, actor and bandleader. He is best known for composing four of the most recorded American songs of all time: "Stardust," "Georgia on My Mind," "The Nearness of You," and "Heart and Soul."
Although Hoagy never had formal piano lessons, he picked up the skill from his mother, a versatile pianist who played for silent movies. Later, Carmichael would earn his first money as a musician (five dollars) playing for a fraternity dance.
Carmichael attended Indiana University, where he received his B.A. in 1925 and a year later, his law degree. To support his studies, he toured the state with his band, The Collegians. During this time, he befriended and played with Bix Beiderbecke, who introduced him to Louis Armstrong, with whom he would later collaborate. Like Armstrong, Hoagy had a rather unique singing voice. He described it as having "Wabash fog and sycamore twigs in my throat."
After earning his law degree, he went to work in Florida with a law firm, but music was his first passion. One day he was surprised to hear the Red Nichols recording of Hoagy's "Washboard Blues" played on a sidewalk phonograph at a local music store. He realized then that music was to be his life, and back he went to Indiana, taking up music fulltime. He later described his secret of songwriting: "If you find the beginning of a good song, and if your fingers don't stray, the melody should come out in a short time."
Hoagy's songs on this recording are mostly from his early years as a composer in the 1920s and 1930s, with a sprinkling of more recent selections. Many were collaborations with other great song writers of his day. These were names like Frank Loesser, Johnny Mercer, Mitchell Parish, Rudy Vallee and peers. "Barnacle Bill" is not a Carmichael composition, but Hoagy lent a frivolous hand to the cheeky 1928 arrangement.
These songs are timeless, much like the sentiments they express. Here's to Hoagy!
MUSIC
Boneyard Shuffle. 1926. Hoagy Carmichael. Arr., John Bennett…[4:15]
Small Fry. 1938. Hoagy Carmichael & Frank Loesser. Arr., Kit Johnson. Vocal, Marilyn Keller…[4:12]
Old Man Harlem. 1933. Hoagy Carmichael & Rudy Vallee. Arr., Kit Johnson. Vocal, Marilyn Keller…[4:40]
Hoagy à Trois Medley. Arr., Kit Johnson…[5:30]

Georgia on my Mind. 1930. Hoagy Carmichael & Stuart Gorrell.
(Up a) Lazy River. 1930. Hoagy Carmichael & Sidney Arodin.
Stardust. 1927. Hoagy Carmichael & Mitchell Parish

Washboard Blues. Hoagy Carmichael, Fred Callahan & Irving Mills. Arr., John Bennett. Vocal, Marilyn Keller…[4:00]
Lazy Bones. 1933. Hoagy Carmichael & Johnny Mercer. Arr., Kit Johnson. Vocal, Alan Phillips…[5:03]
Jubilee. 1937. Hoagy Carmichael & Stanley Adams. Arr., John Bennett & Kit Johnson. Vocal, Marilyn Keller…[3:07]
Manhattan Rag. 1929. Hoagy Carmichael. Arr., Kit Johnson…[3:16]
Ole Buttermilk Sky. 1946. Hoagy Carmichael & Jack Brooks. Arr., Steve Matthes. Vocal, Alan Phillips…[4:00]
Serenade to Gabriel. 1957. Hoagy Carmichael & Vick Knight. Arr., Kit Johnson. Vocal, Marilyn Keller…[4:23]
I Walk with Music. 1939. Hoagy Carmichael & Johnny Mercer. Arr., Kit Johnson. Vocal, Alan Phillips…[3:52]
Riverboat Shuffle (Free Wheeling). 1924. Hoagy Carmichael, Irving Mills, Mitchell Parish & Dick Voynow. Arr., Kit Johnson…[3:22]
The Nearness of You. 1937. Hoagy Carmichael & Ned Washington. Arr., Steve Matthes. Vocal, Marilyn Keller…[4:31]
Heart and Soul. 1938. Hoagy Carmichael & Frank Loesser. Arr., Steve Matthes. Vocal, Marilyn Keller…[4:22]
March of the Hoodlums. 1929. Hoagy Carmichael. Arr., Kit Johnson…[3:33]
Barnacle Bill the Sailor. ca 1928. Frank Luther & Carson Robison. Arr., John Bennett. Vocals, Steve Matthes & Alan Phillips…[3:25]