Pandemonium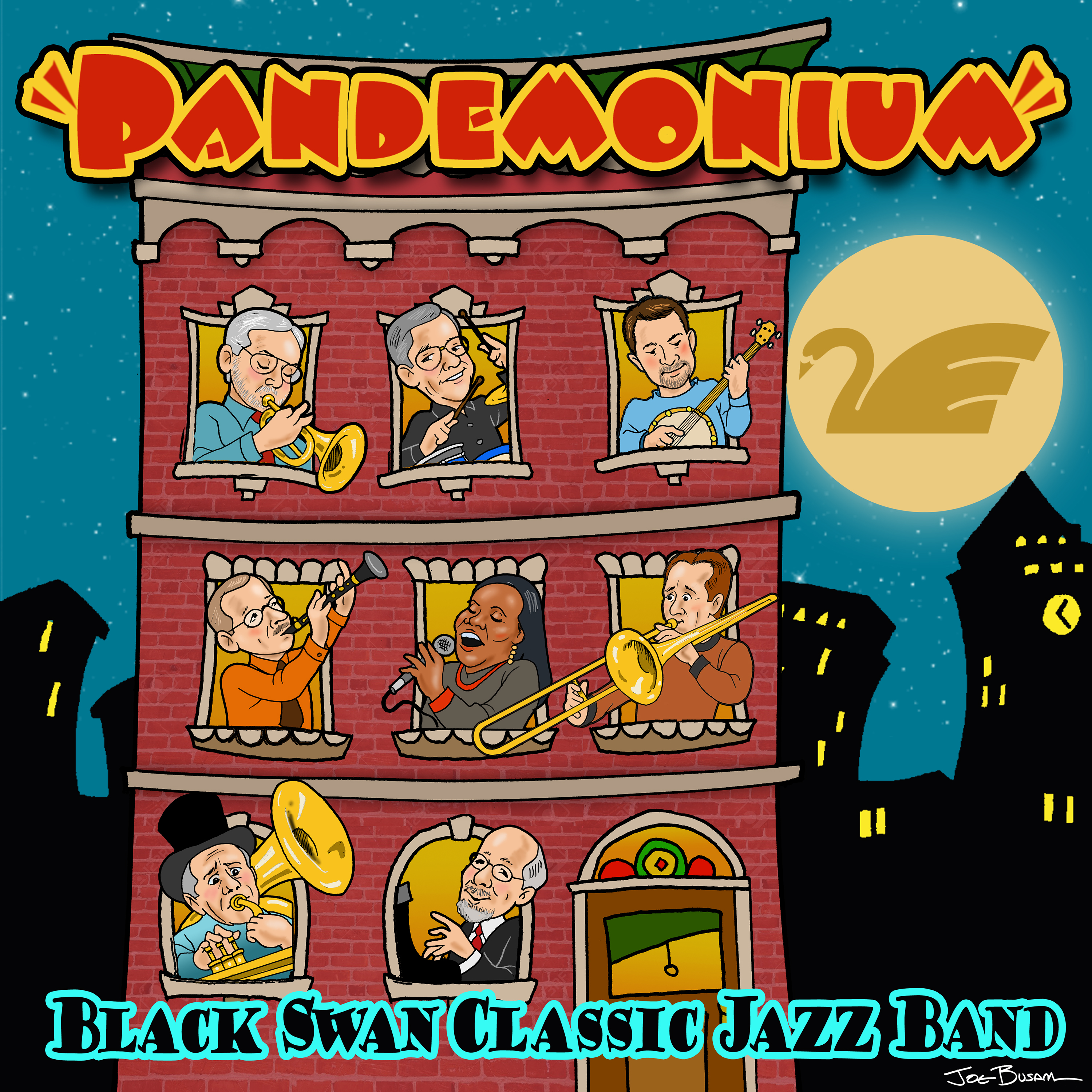 Pandemonium is a brand new recording from 2020 that includes early blues, ragtime and jazz favorites, three original songs composed by members of the band and featured vocals by Marilyn Keller. CDs may be pre-ordered at this time for shipment in February 2021.
The musicians on this production are as follows:
Pandemonium was produced and engineered by Kit Johnson. Mastering consultant was Bryan Shaw. Joe Busam created the original cover art. Joy Kodani was the graphic artist. Recorded at Fast Buck Studios, Portland, Oregon in 2020.
Buy this Album Online
| | | |
| --- | --- | --- |
| Pandemonium (CD) | $16.00 | Quantity: |
Liner Notes
Liner notes will be provided later.
Coming soon!
MUSIC
King Chanticleer. 1910. Nathaniel Ayer. Arr./Trans., James Meyer…[5:18]
Git On Out the Door. 2011. Kit Johnson. Vocal, Marilyn Keller…[4:42]
When the Midnight Choo Choo Leaves for Alabam'. 1912. Irving Berlin. Arr., Kit Johnson. Vocal, Marilyn Keller…[4:18]
Bouncing Around. 1924. Peter Bocage & Armand Piron. Arr., Kit Johnson…[4:06]
Jelly Bean Blues. 1924. Gertrude "Ma" Rainey. Arr., Kit Johnson. Vocal, Marilyn Keller…[5:04]
My Honey's Lovin' Arms. 1922. Herman Ruby & Joseph Meyer. Arr., Steve Matthes. Vocal, Marilyn Keller…[4:08]
San. 1920. Lindsay McPhail & Walter Michels. Arr., Kit Johnson…[5:35]
1919 Rag (March). H.A. Fischler & Traditional. Arr., Kit Johnson…[5:27]
You've Got to See Mama every Night (Or You Can't See Mama at All). 1923. Billy Rose & Con Conrad. Arr., Kit Johnson. Vocal, Marilyn Keller…[4:35]
Down in Honky Tonky Town. 1916. Charles McCarron & Chris Smith. Arr., Kit Johnson. Vocal, Marilyn Keller…[5:12]
Black Swan Glide. 2005. Steve Matthes…[4:38]
Cut to the Bone. 2011. Kit Johnson…[5:09]
Aggravatin' Papa. 1922. Roy Turk & J. Russel Robinson. Arr., Kit Johnson&hellip. Vocal, Marilyn Keller…[4:51]
Way Down Yonder in New Orleans. ca 1922. Henry Creamer & John Turner Layton. Arr., Kit Johnson. Vocal, Marilyn Keller…[4:33]