John McKinley - Banjo
McKinleys release "Just Us" CD! Father and son banjo virtuosos John and Craig McKinley recently released their new recording named "Just Us". Both have been past and remain occasional members of Black Swan. They collaborated with Kit Johnson for engineering and production. This is a tasty recording, featuring some wonderful material and masterful playing. You can order the CD or download MP3 files through The McKinleys page on CDBaby.com.
John McKinley's parents arranged for music lessons and banjo instruction for him in 1940 from Ray Wilkinson, the talented banjoist with George Olsen's Orchestra at the Portland Hotel. A few short years later John took 1st prize at a County Fair talent contest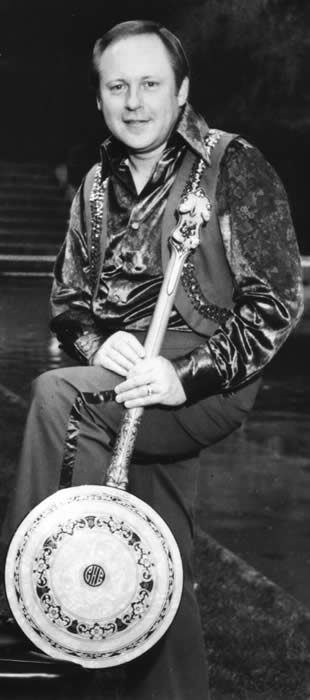 performing Harry Reser's banjo tour de force, "Pickins".

John was busy as a little boy, playing banjo throughout the area, and in 1949 was hired to perform with Gordon Elstone's Dance Band. Soon thereafter, Monte Ballou called upon him to join Portland's famous Castle Jazz Band. These engagements were held at the Diamond Horseshoe, Oswego Lodge and Rosini's. On Saturday nights there was a live feed to a local radio station for broadcasts throughout the city. Beginning in the early 1950's, John was a frequent performer on live television as well, appearing on KGW's "Telescope", KOIN's "KOIN Clock" and "Hi Neighbor", and on KATU's "AM Northwest" and with their live studio band.

John has been guest featured artist - touring throughout the state of Oregon - for Norman Leyden and the Oregon Symphony Pops series, and also with the Seattle Symphony Pops Orchestra. He played "The Life of Orestes" with the Portland Opera and the Joffery Ballet, handling the banjo work for the Stephen Foster series. During this period, John also traveled the circuit nationally, performing as the opening act for Lawrence Welk, Pearl Bailey, Helen Reddy, Burl Ives and Anna Marie Alberghetti, as well as working with Fred Waring and Freddie Martin's Orchestras.
His own bands from the 1960's through the 80's included John McKinley's Gaslighters and the John McKinley Jazz Band, and John performed regularly with Don Kinch & the Conductors Ragtime Band and the Jim Beatty Jazz Band as well. He taught his son Craig banjo, and they toured nationally as "The McKinley's", recording "Just Banjos" in the late 1970's. John is currently tutoring his grandson Jonathon to become the third generation of banjoists in the McKinley family.
John's discography includes: