Bert Barr - Cornet
Bert is the leader of the popular Uptown Lowdown Jazz Band from Seattle and frequently appears with Black Swan at jazz festivals and other events throughout the Pacific Northwest.
Raised in Vallejo, California, as a youth Bert was exposed to recordings of Turk Murphy and the Firehouse 5+2 from his uncle's collection. He became infatuated with this music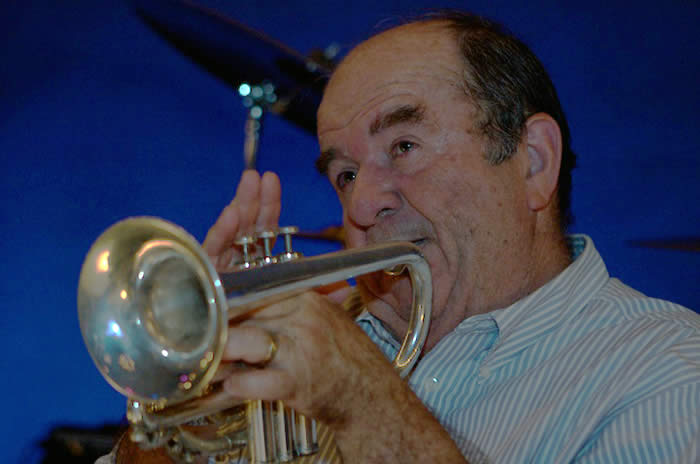 and decided he wanted to play it. Along with several of his local friends, Bert started practicing with the recordings and trying to copy the solos and such until they became pretty good at it. The 'gang' included Tom Jacobus, Jerry McKenzie, Jim Snoke and Mark Krnowski. They formed a band in high school and played a few local events, also landing a steady Saturday gig at Red's Pizza in Vallejo, where all the family and friends made it a great time.

Bert went on to the University of Oregon and started the Emerald City Jazz Band with Jacobus, and Jan & Phil Stiers. Bert then joined the Army and was stationed at Fort Lewis (before going on to Viet Nam), where his job was to audition draftees and if they could play well enough assign them to the band. He notes: "Steve Matthes was one of those guys I saved from the infantry". In Viet Nam Bert formed a Dixieland Band to play around the base in the evenings, after the full band had wrapped up for the day. "This got me out of afternoon clean up duties which everyone did if they weren't involved in some sort of ensemble group. Besides, the rehearsal hall was air conditioned and it was HOT outside.!" His band was the Hot Rats of Saigon.

Bert returned to Eugene to finish his degree at the U of O and then moved on to Seattle. In 1971 he started the Uptown Lowdown Jazz Band naming it after a tune called "Doin' The Uptown Lowdown". 38 years later he is still leading the Uptown Lowdown, a popular traditional jazz ensemble with fans from all over the world.

Bert says, "subbing with Black Swan is a great thrill for me. I like the challenge of reading new material and sharpening my skills by improvising with a different bunch of great players. The thrill is when the chemistry builds and you can feel that everybody is clicking together on the same page. Black Swan has skilled arrangers that make life "easy" as a side man - not too much guess work that sometimes leads one astray. Working with Marilyn is a special treat AND a special challenge. Her vocal keys are not always what I would call 'horn friendly', but she is such a sweetheart and terrific vocalist, that you can't help but enjoy performing behind her".
Bert's discography is voluminous. Many of his recent recordings are available at the Uptown Lowdown website. Here are just a few samples:
Chattanooga Stomp
Live at Fresno Mardi Gras 2005
Jingle Jazz
Apostles of Sax v1
Apostles of Sax v2: Sax Religious
At the Storybook Ball
Play it Again!
Apostles of Sax v3: 30th Anniversary
Seattle - Frisco Connection
Tribute to Fletcher Henderson (with combined Uptown Lowdown and Evergreen Classic bands)
Well Seasoned
Memories of You
Uptown Lowdown Lite
Saloon
Borneo & Other Vintage Rarities
Business in F
21st Birthday
Cookin with Uptown Lowdown v1
Cookin with Uptown Lowdown v2
Cruisin' Avalon
Road Apple Rag
Seattle Style
Live in Tokyo 1986
Your Requests
Other Links