Hoagy Carmichael Show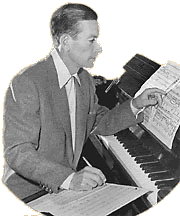 Image from the Hoagy Carmichael Collection at Indiana University.
In the beginning episode of Ken Burns' jazz series, viewers were mesmerized by the incredible performance of the young Louis Armstrong playing a very familiar tune? Hoagy Carmichael's Star Dust. It is not surprising that Ken Burns selected this segment to begin his monumental jazz series, for it is not only one of Louis Armstrong's finest performances on film, but the song Star Dust is perhaps the most well known and beloved in all American popular music. Hoagy Carmichael has left us a rich legacy of songs that have become standards for performers of jazz and popular music all over the world.
In honor of Hoagy Carmichael's (1899-1981) centennial, The Black Swan Classic Jazz Band put together a collection of wonderful Hoagy Carmichael tunes with commentary about Hoagy's career in a Hoagy Carmichael Tribute. Besides the well known standards Star Dust, Georgia on My Mind, and Up The Lazy River, this special set includes rarely heard gems such as Boneyard Shuffle (an early Hoagy tune from 1926), New Orleans (1927) and Manhattan Rag (1929- Hoagy's only ragtime composition).
Hoagy wrote many of his own lyrics and also collaborated with many of the finest lyricists of his day (Johnny Mercer, Mitchell Parish, Ned Washington, Frank Loesser). Our own Marilyn Keller gives her special vocal treatment to several great Hoagy tunes such as Small Fry, Rockin' Chair, The Nearness of You, Washboard Blues, Serenade to Gabriel, the oh so familiar Heart and Soul, the uplifting Jubilee, and the rollicking Old Man Harlem. The humorous Lazybones and western flavored Ole Buttermilk Sky get colorful treatment as well. Each of the tunes is presented in a special Black Swan arrangement providing a varied and interesting program, which showcase the members of the band in settings ranging from beautiful ballads, to the hilarious (Hoagy's arrangement of Barnacle Bill the Sailor), to high energy show-stoppers. Of course no Hoagy Carmichael set would be complete without his first published song Riverboat Shuffle (1924 - originally called Free Wheeling) written for his good friend Bix Beiderbecke and the Wolverine Orchestra.
Let the Black Swan Classic Jazz Band entertain your next event with the timeless music of Hoagy Carmichael. (Don't forget to visit Hoagy Carmichael's official web site for lot's of great information on this legendary artist)