James Meyer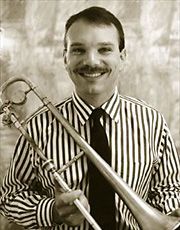 James "Torch" Meyer performed with Black Swan from 1989 to 1997. He started playing trumpet at age six but switched to trombone a year later in favor of the smears, rips and other new noises he could make.
Although a classically trained professional musician, he's right at home with the roaring 20's tailgate style and the velvet touch of the 30's. The nickname "Torch" started following an incident in which he was involved as a sawmill worker and continues to capture the fire and intensity of his playing. James is in equally high demand in classical circles, playing bass trombone with the Eugene Symphony Orchestra.
When he's not blowin' that horn, James works as an employment specialist putting people to work.
Discography
James Meyer appeared on the following Black Swan recordings:
In addition, James' discography includes a 1988 recording, The Misty Water Drifters (no longer available).
Ohter Links