Mark Hazzard - Piano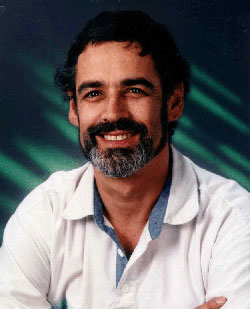 Mark Hazzard performed on piano with Black Swan from inception in 1989 through 1991, and is still active in the Oregon music scene.
Mark's piano style and vocals are always in big demand no matter what the event or audience. Mark has played with such notable groups as the Abalone Stompers from Monterey, California to the Black Swan Classic Jazz Band from Portland, Oregon. He loves music (of all types), but his passion remains with Traditional Jazz.
Born in Frankfurt Germany, Mark's mother observed his musical talent at an early age and enrolled him at Sherwood Music School in Vallejo, California, at age 4. His uncle, musician Cal Tjader, encouraged him to enjoy show buisness.
At the age of 15, he had the opportunity to play with the legendary John Lee Hooker. At age 17 he was playing professionally at the River Inn in Big Sur, California. As their house pianist, he accompanied many notable jazz greats such as Pete Fountain, Jackie Coon, Bill Watrous, and Jake Stock to name a few.
At that time he was also employed by Al Jardine of the Beach Boys to teach his son piano. At age 25, romance took him to Seattle, where he attended South Seattle Community College for classes in recording and big band arrangements.
Although rock and roll and country music are at the heart of his musical upbringing, his mother also encouraged him to appreciate and perform many classic jazz standards. This led to his current love for music of the roaring 20's. He currently performs a popular variety band, Vanness Express and his own band Class Act.
For several years Mark has been involved with church music leadership. He is increasingly involved in the area of church growth, with emphasis on the importance of music to enrich twenty-first century churches. Visit Mark's website at www.giftedchildmusic.com or via email at markhazzard@comcast.net.
Discography
Mark Hazzard's discography includes:
The first Black Swan recording, Sweet Substitute
A 1988 recording, The Misty Water Drifters (no longer available)
Glory Bound, "Music to Praise Our Lord" (available online at Gifted Child)
A 2003 recording, Cookin' With Calamity (available at www.CalamityJazz.com)
A solo 2003 CD, Memory Lane (available online at Gifted Child)
A duo CD released in 2003 with Ted McNeese entitled Class Act (available online at Gifted Child)
A Country & Western release: Parker - Cropper "Walk Across Texas" (available online at Gifted Child)
Photos of Mark Hazzard